Saturday, December 3, 2016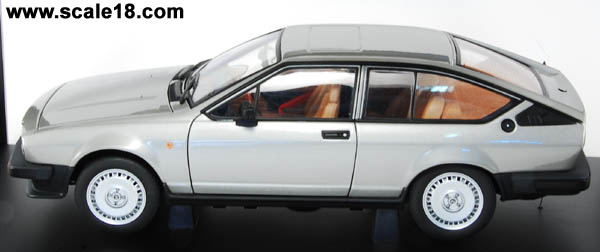 AUTOart 70147
aa70147
1980 Alfa Romeo Alfetta GTV 2.0 silver [2009]
The Alfa Romeo Alfetta is an Italian rear-wheel drive executive saloon car and fastback coupé produced from 1972 until 1987 by Alfa Romeo. It was popular due to its combination of a modest design with powerful engines, selling over 400,000 units until the end of its production run.

The Alfetta was the base for the GTV, a fastback coupé version of the saloon, introduced in 1974 as Alfetta GT, initially available only with the 1.8 litre (1779 cc) version of the Alfa DOHC four. For 1976, with the final phasing out of the earlier 105 Series 1.3 and 1.6 litre coupes (GT 1300 Junior and GT 1600 Junior) and the 2.0 litre 105 series 2000 GTV, the Alfetta GT became a range, also available with the 1.6 litre (1570 cc) and 2.0 litre (1962 cc) versions of the same engine as the Alfetta GT 1.6, Alfetta GT 1.8 and Alfetta GTV 2000. The GTV designation was initially reserved for the 2.0 litre top version.

In 1979, some minor revisions, including a revised engine with new camshaft profiles and a change to mechanical-and-vacuum ignition advance, saw the 2.0 litre redesignated the Alfetta GTV 2000L. Autodelta also produced a limited edition turbocharged model, named Turbodelta, for FIA Group 4 homologation. This version used a KKK turbo which pushed power up to 175 PS (129 kW). The car also received a modified suspension layout. This was the first Italian production car with a turbocharger.

The styling of the GTV, while distinctive, can be seen to share many design features derived from the Montreal supercar, as translated down to a simpler and thus more marketable vehicle. Examples of this are the bonnet line, which while briefer, still has 'scallops' for the headlights, and the tail light clusters which resemble those of the Montreal. The door shape is similar, and in a sharing of parts, both vehicles employ the same door handles.
---
©1997-2016 Kevin's Hobbies Ltd., Website Designed and Programmed by Kevin Pickell